The only thing we have to fear is fear itself
– Franklin D. Roosevelt, Inaugural Declaration, 1930
Dear United States of America: Happy birthday to you. #243.
PLENTY
I first came to the United States in the Fall of 1990. On Target shelves, I saw scented garbage bags and olive pickers. I was delighted to see that even in push pins there was so much variety. In Barnes and Noble, I saw shelves lined with beautiful blank journals that made me tremble.. An Art supply store brimming with every conceivable art making tool and products that made me weak in the knees. Malls and big stores though, would intimidate me with their sheer size and quantities of goods. Vir Das, an Indian comedian and actor, in his Netflix special, compared the size of the cereal aisle in America to a school in Bombay. To this day, I am unable to step into a mall or a store like Cosco or Whole Foods without a friend.
HISTORY
The United States has a long, complex and colorful history. There are things to be proud of as well as events that are cringe worthy. What makes this country fascinating is a richness of diversity.
Current day citizens have so fortunately inherited America that was born out of land taken from the native indigenous Hopi, Taos, Iroquois, Algonquin, Lakota Sioux, Navajo, Mohawk, Wampanoag, Seminole and other Indian tribes. Contrary to popular belief, Christopher Columbus never stepped foot in America. He encountered the matrilineal Taino tribe who had migrated from South America along a chain of islands in the Caribbean. His voyage in 1492 did establish regular contact between the Europe and the Americas. It is said that he organized genocide and other atrocities.
History is constantly reinterpreted based on different angles of vision which change with time. Science too, reinterprets history. History strongly influences how you see yourself and the world. Like everybody and everything, we are a work in progress.
CULTURE
America is a powerful melting pot and its heart vibrates with the beats of myriad cultures, traditions, belief systems, values and dogmas, philosophical existential and unempirical or conjectural pop culture. It is the world's third largest country in size and population and is comprised of fifty states plus District of Columbia.
NATURE
The national, state and county parks in this amazing country have had my utmost respect and I am in awe of how beautifully Americans have protected, nurtured and made Gods abundant natural beauty and blessings available for the citizens and tourists to enjoy, thus preserving it for generations to come.
When people asked me how long I was planning to live in the US, I used to say, "Until I have seen every gorgeous National Park". I have my National Park passport with stamps from many parks to boast of. But nowhere close to feeling satisfied that I have seen and felt and experienced this amazing country's incredible vistas.
ENGLISH VINGLISH
In April 1995, I first fell in love with America on my return to American soil from my first backpacking adventure to Europe. I wanted to kiss the ground when I landed in Dallas from Rome via London. Then, hardly anyone in Rome spoke English and I was taking public transport with the only Italian I knew – "Parla Inglese?" (Do you speak English). It was relief beyond words to hear the familiar Texan drawl when I landed, and I wanted to hug everybody.
KNOWLEDGE, ROADS & TOILETS
When my son Krish was in fourth grade at Davis Elementary school in Austin, Texas, he was asked to write what he loved about America. Here's what he said. "I am proud to be an American because we have freedom of speech and religion. I like how you can vote for our President and Governor. I like our schools because we don't have to pay for it and our teachers are very good. We have good toilets and get great knowledge. We have good roads and great laws".
Now in college, I asked him the same question and he replied, "I value diversity. Personal space. How Americans are health and fitness conscious. How there is plenty of choice in every aspect of life. I like how Americans love being outside. Nature is everywhere and how there are more trees in America now than there were two hundred years ago. I like having access to clean air, water and surroundings. I love the roads. I consider America to be the hub of the world. And that the hot girls from all over the world come here".
NATIVE AMERICANS
Native American history is intertwined into the very fabric of US American history. The nation is historically viewed as being founded by European settlers even though the land was already inhabited with Native Americans who came to the continent 20,000 years ago via a land bridge that connected Alaska to Asia. Discovered by Native Americans or the Beringians and known to the Celts and Norsemen (Vikings) of Northern Europe in 31 BC, and 1000 AD respectively, European nations explored and claimed lands in the Americas after 1492. There were around 10 million native Americans who lived in the heartland settled in diverse communities from Florida to Alaska and from California to New England. Today, the Native American population is around 3 million in the 500 recognized tribes that survive. 22% live in the Indian reservation lands that comprise of 56 million acres allotted to them by the United States. They are also the highest represented group in the US Army despite being a minority. Even though Native Americans were not even considered citizens, thousands had volunteered for the Civil War.
No literate person knew enough of any Native American language to record the histories of the many societies of early America, North of Mexico.
Native Americans had developed a sophisticated civilization long before the arrival of European explorers. Settlements in Americas were established by the Spanish, English, Dutch, French and Swedish primarily for economic and religious reasons.
My first encounter with the indigenous American Indians occurred 25 years ago, in the Hoh rain forest in the Olympic National Park. By the roadside lined with magnificent Douglas firs, I met an artist painting on a handmade drum. I couldn't afford to buy his art, yet he gave me a drum to paint on. I visited the Alaska Native Heritage Center in Anchorage, where six types of traditional native dwellings are beautifully constructed along with artifacts that each group used in their daily lives.
GOVERNMENT
Differences between the treasury secretary, Alexander Hamilton and Thomas Jefferson was the base on which the two-party system of United States is built. During the two decades following independence, individual contributions by the founding fathers like George Washington, Thomas Jefferson, Alexander Hamilton, John Adams, James Madison and Edmond Randolph was significant. Their understanding of human nature, philosophy of governance, reactions to crisis and disagreements is what shaped the nation we have today.
George Washington, the Commander-in-Chief of Colonial forces in the Revolution became the first President of the United States. Through a series of compromises, the founding fathers of the First Congress formulated the United States Constitution, the supreme law of the land. A new federal system of governance was defined, and balance of power was achieved by distributing the power between three branches of Government, the Senate, House of Representatives and the Electoral college. James Madison was considered the father of the constitution. He introduced the amendments to the constitution known as the Bill of Rights.
Among the 45 presidents, my favorite is Theodore Roosevelt, affectionately called Teddy. His approach was that of a Big stick diplomacy. "Square deal" term was first used by him to describe all of his progressive domestic policies regulating businesses, protecting customers, trust-busting, conservation and social reforms. Most of all, it was Roosevelt who formed the National Forest Service, the National Park Service and the Department of Conservation of Natural resources. The goal being to protect the nations parks, historic sites, natural resources and wildlife.
ECONOMY
The United States is a founding member of the United Nations, World Bank, International Monetary Fund and other international organizations. The United States is a highly developed with the world's largest economy. accounting for approximately a quarter of global GDP. U.S. economy is largely post-industrial, characterized by the dominance of services, although the manufacturing sector remains the second-largest in the world. The United States is the world's largest importer and the second largest exporter of goods. Although its population is only 4.3% of the world total,]the U.S. holds 31% of the total wealth in the world.
Despite income and wealth disparities, the United States continues to rank very high in measures of socioeconomic performance and worker productivity. It is the foremost military power in the world, making up a third of global military spending]and is a leading political, cultural and scientific. force internationally.
TOLERANCE
America has a BIG heart. And BIGGER toleration policies. They permit modern day spiritual gurus like Sadhguru and Deepak Chopra to share solutions to modern day ailments like mental illness, acute stress and emotional disturbances that plague us more than diseases ever did.
SERVICES
Then there are trusted organizations like AAA that encourage adventure seekers like me to hit the road and explore this amazing country and vastly changing terrain with comfort. Knowing that help is only a phone call away in event of an emergency made every road trip we took comfortable and joyful. Plus, access to campgrounds, star attractions and the quintessential maps, all free to members is an invaluable resource that helps the common man experience the great outdoors with ease.
VOLUNTEERS
Americans are generous with their time for various causes that float their boat. They selflessly give of themselves and drive the nations various nonprofits and charitable organizations. The very few times I have found the time and inclination to do so, I felt rewarded by being a part of something bigger than my self-centered actions toward my own goals. I remember the time my son and my neighbor's daughter accompanied me to hand out bottles of water to the runners during a marathon in Austin. What fun.
PHILANTHROPISTS
This country is home to an amazing 1 million nonprofits that in 2018 that received 49 million in gifts.
B corps certified companies, CSR, Humane society, United Way Worldwide,
Bill & Melinda Gates Foundation, Boys and Girls Clubs of America, American Red Cross, Goodwill Industries International, Americares, Salvation Amy, YMCA, Habitat for Humanity, and Taskforce for Global Health to name a few.
The nation's largest charity by donations received 49 billion in gifts. United Way is a network of 1300 local affiliates. Much of the fundraising comes from payroll deductions. United Way supports a wide range of other charities.
Philanthropists abound in this amazing nation, the one and only royalty among them is our very own Bill and Melinda Gates who have done wonders for the world with the immense wealth they were blessed with.
PETS
68% of US households have some sort of pet, including 90 million dogs and 94 million cats and 7.6 million horses. For 2019, the estimate is that America will spend $75.38 billion on pets
POPULATION: 327.2 million
A child is born every 8 seconds, a person dies every 12. A new immigrant moves to the United States every 33 seconds. 90% of residents speak some level of English. Makes for a unified world. Fact. 300 languages are spoken. More than three quarters of people are White. 18% Hispanic, 13% African American. 71% of residents identify as Christians. But every known world religion is practiced.
UNITED BY TRASH
The Environmental Protection Agency says that each of us Americans throw away 4.4 pounds of trash every day. 60,000 garbage trucks daily. Somewhere I read that if every other person in the world lives like Americans do, we would need four earths to provide the resources needed.
America has over 250,000 rivers that constitute 3,500,000 miles. Some of these rivers like the Gila river, New Mexico, the Hudson River, New York and the Upper Mississippi rivers are endangered with organizations like American Rivers working to rehabilitate them.
Every single day, half a billion plastic straws are used once and thrown away. Choose to refuse single use plastic. An easy way is with a reusable straws.
Our rivers and oceans and marine life are in danger. We know that plastic straws, bags etc. are as powerful as a bullet or machete as far as the marine life go. B CORP certified companies like United by Blue (UBB), remove 1 pound trash from the ocean for every product you buy. I bought reusable and durable copper straws with cute tree design engraved on them as well as the copper straws.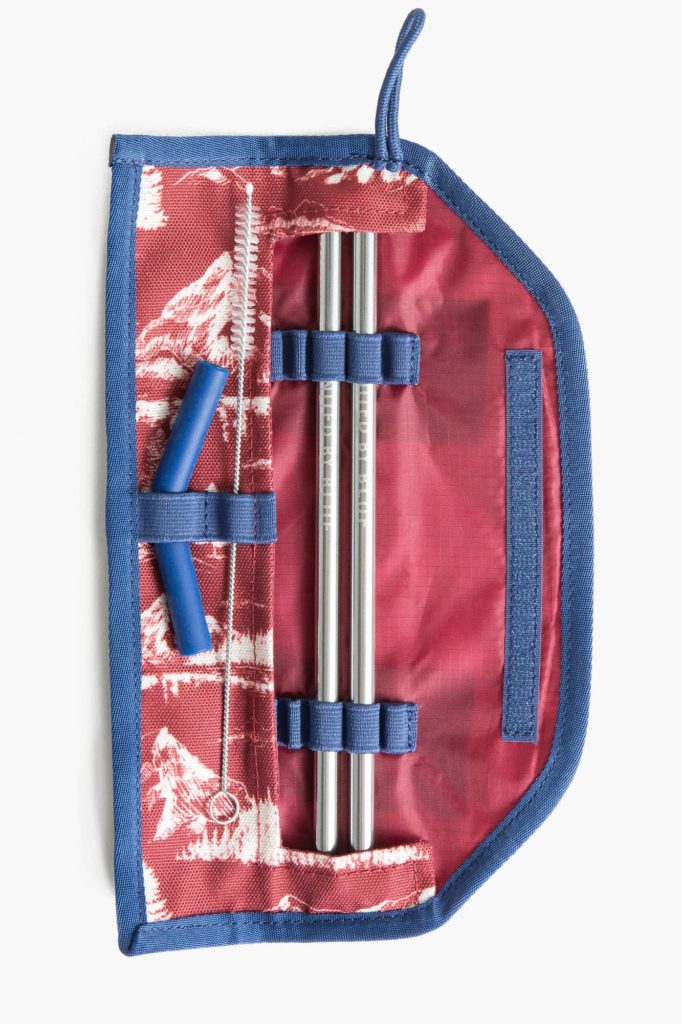 The ideal partner to UBB's Moscow mule mugs, this set of four copper straws is engraved with mini evergreen trees. Hand welded from durable and handsome copper, these straws are the perfect addition to any bar set that will last a lifetime.
The reusable straw kit which comes with two durable stainless steel straws with room for two more, a silicone tip and a bristled cleaning brush, packed snugly in a 100% recycled case that's made from two regenerated plastic bottles. Easily attaches with a loop to your bag or backpack.Fastened with Velcro and finished with an exterior loop for attaching to a backpack or hanging to dry. I guarantee you will earn many points and the heavens will smile down on you and the oceans will bless you with this purchase.
CORNUCOPIA
Americans have perfected the art of ample, comfort and convenience.
During my two decades in America, here's what I or my friends ate, did, see, love and opted for retail therapy at:
La Madeline, McDonalds, Schottky's, Wendy's, Jack in the Box, Dunkin Doughnuts, Krispy Creme, Starbucks, Peets, Amazon, Netflix, HBO, Football, Basketball, Baseball, Michael Phelps, Michael Jordan, Michael Martin Murphy, Michael Jackson, Keeping up with the Kardashians, Animal Planet, The Learning channel, HBO, Robert Redford, Paul Newman, Steven Spielberg, Bill Gates, Steve Jobs, Steve Martin, Madonna, Oscars, Einstein's Bagels, Clam Chowder, Sourdough bread, Office Depot, Office Max, TJ Max, Home Goods, Anthropologie, Sephora, REI, Old Navy, Talbots, Ann Taylor, Free People, Blockbuster, Cosco, HEB, Randall's, Teacher Supply store, Tibetan store, Tub of popcorn at the movies, Chocolate Chip Cookies, Hot dogs, Hamburgers, Pizza, Chinese, Gyros, Taco Bell, Ice-cream Sundaes, Cupcakes, Barbecue, Tailgating, Going to games, singing in a choir, volunteering, Informal classes, Apple Music, Spotify, iPhone, iPad, iPod, iMac, I……mad. Finding Nemo. Toy Story, Sleeping beauty, Bruce Almighty.
Bette Midler. The Voice, Maroon 5, Simon and Garfunkel, Bruce Springsteen, JJ Cal, Clapton, Coldplay, Dave Matthews band, Dixie Chicks, Neil Diamond, Don Williams, Post Malone, Tupac, Dangerous Minds, Annette Bening, Warren Betty, Bruce Willis, Die Hard, George Clooney, Keira Knightly, Game of Thrones. Jonas brothers, Bieber, Selena Gomez, Safeway, Sprouts, SAS shoes, Footlocker, Walgreens, Target. Chicago. Boston. Cape Cod. Krause Springs. Austin. Telluride. Ouray. Estes Park. Steamboat Springs. Cloudcroft. Ruidoso. Silverton. Santa Barbara. Moab. Olympic National Park. World class museums. Traveling Art exhibits. Hiking, biking, camping, climbing, lunching, gymming, badminton, scrapbooking, painting, singing, dancing, working. Mothering.
DECREASED VIOLENCE, INCREASED ANXIETY
Today, there is a marked decline in violence. However, the last two decades have witnessed heinous acts of terrorism which is rooted in deep grievances against the United States. The sanctioning of US troops in Saudi Arabia, site of the most holy of modern shrines, ten years of sanctions against Iraq, continued support of Israel's occupation of Palestinian land including billions in military aid to quote a few. Now, on top of the list is ousting our president Donald J Trump. No matter what he has done in his past, he is the president of the country. Yet, we bash him every day. How is a man to function and do his job that he didn't have to sign up for? He could have remained in his comfort zone, but he opted to do something for the nation. The media has fostered an atmosphere of hate and ridicule and made a mockery of the President's office. In the name of freedom of speech, we are torturing ourselves by all the hate and anxiety generated. The immigrant issue has taken the US by storm.
MORE PEOPLE
At Ross Dress for less, standing in line for a while before returns, I realize that we Americans are not used to waiting in long lines. But the number of people that have poured into America in the past decade while I was away, makes for each citizen to be more patient than the prior versions of themselves.
TRAFFIC
The only comment I will make on the freeway traffic here in the Bay Area and in Los Angeles is this: Have you seen the Doctor Who episode where the cars are stuck on the freeway and the next exit is years away?
B CORP
Certified B Corporations are businesses that meet the highest standards of verified social and environmental performance, public transparency, and legal accountability to balance profit and purpose. B Corps are accelerating a global culture shift to redefine success in business and build a more inclusive and sustainable economy.
Society's most challenging problems cannot be solved by government and nonprofits alone. The B Corp community works toward reduced inequality, lower levels of poverty, a healthier environment, stronger communities, and the creation of more high quality jobs with dignity and purpose. B Corps form a community of leaders and drive a global movement of people using business as a force for good.
Certified B corporations acknowledge that the climate crisis and take action through addressing their impact in the environment and aiming for improvements.
AMERICA, THE BEAUTIFUL
Like President Jimmy Carter says "We citizens love our country and it is our duty and pleasure to know the beauty that is America".
Mr. President, I concur.

To the future generations I quote Sadhguru Jaggi Vasudev "The next generation should be one step better than the previous" as a constant of time. I crossed the ocean with my heart of gold. And found more gold in the hearts of Americans that beat like mine. Here's to the next 365 days as you revolve around the sun, may God guide you to do the right thing. Salute.
Books that contributed towards this blog:
A People's History of United States – Howard Zinn
Don't Know Much About The Pilgrims – Kenneth C Davis
The Birth of America – William R Polk
The Great Book of American Trivia – Bill O'Neill
My United States: Massachusetts – Cody Crane
Barron's E-Z American History – William O. Kellogg
The First Americans – Anthony Aveni