I own perhaps twenty bags, majority of them made out of cloth. Like me, the miles they have traveled are evident. They contrast sharply with the bags owned by celebrities like Kylie Jenner. She had a room built specifically to house them; her favorite 'shelf' being the Hermes shelf.
During my research for this blog, I came across several articles that said buying a Hermes Birkin bag was the least volatile and a better investment than stocks or gold. The costs range from $12,000 to $250,000. So choose carefully, a house or a designer handbag.
Two decades ago, I spent $200 on a leather bucket bag that I promptly gifted to my son's babysitter. A decade ago, $400 on a white leather Coach bag that today lies in storage in Bangalore. Despite spending twenty years in Texas, I never identified with the brand which is hugely popular with Texan women. The bag itself weighed more than what I was comfortable carrying, a fact that revealed itself long after I had made the purchase.
The breakthrough for the leather handbag came with the arrival of ship and railway travel. Travelers needed bags that were not delicate. In my experience, there is no material that is as sturdy and durable as leather, develops character with wear and gets better with age. But finding one that has been a faithful travel companion over the decades, has been elusive. I do not permit myself to be seduced by fancy brands because I want to continue to love to hate them. So far, the leather bags I bagged from a recent unexpected trip to Florence have tolerated my not so delicate handling. I am pleased and un-regretful that I had to max out my credit cards to be able to purchase them.
The fact that I own few inexpensive bags is a source of joy for me. Never needed a bag organizer, because I seldom changed bags. Morning or evening, lunch or an elegant soiree, the rebel in me exhibited itself by refusing to downsize to elegant clutches, baguettes or wristlets. Mainly for two reasons. One, they made me feel out of place.  And two, moving items from my regular crossbody to a smaller evening bag irrationally irritated me.
A rich variety of handbags emerged in the twentieth century. Applied Arts were flourishing in this era and influenced the patterns, colors and motifs of hand crafted leather. The Art Deco movement furnished Cubist and geometric forms, new materials and bright primary colors. With the increasing popularity of film stars, use of cosmetics increased. The vanity case with various compartments became popular. Fashion houses started designing women handbags to provide accessories to match the clothes.
Bags continue to change under the influence of rapid succession of technologies, art trends and the increasing role of women in the workplace. They are designed to suit each and every purpose and have gone a long way towards revealing the social and cultural practices of the times in which they were conceived. Over the years, myriad types of materials are used in the construction of handbags – Patent leather, suede, paper mâché, filgeree, ironwork and velvet, canvas, tapestry, linen, cotton, polyester, wood, lace; Leather from cattle, donkey, goat, sheep. pig, snake, crocodile, ostrich. lizard, armadillos, fish, shark and Nile perch are valued for their durability and texture; Plant derived materials like straw, wicker, raffia and wood, aloe, bamboo and cactus fibers; Plastic – Acetate, Celluloid, Plexiglass and Vinyl. Most recently a fashion student and designer Tina Gorjanc is using Alexander McQueens DNA to grow human skin in a lab and fashion them into leather bags under the project called 'Pure Human'.
Adornments on the bags are as varied as the materials used to construct them. Diamonds, gold, silver, crystals, beads, embroidery, tortoiseshell, ivory, silver, marcasite, chrome, plastic, feathers, pom poms and straw.
Depending on their use and form, there is a wide range of bags available today. The Minaudieres, Clutch, Vanity, Coin, Crossbody, Tote, Pochette, Hobo, Satchel, Wristlet, Clutch, Weekend, Sling, Shoulder, Saddle, Surf, Muff, Messenger, Envelope, Duffel, Backpack, Doctors bag, Bucket, Bowling, Foldover, Barrel, Frame, Wristlets and Baguettes to name a few. Not to mention designer diaper bags that costs anywhere between $300 to $3000 and specifically designed not to look like diaper bags.
Some popular designer brands are Gucci, Chloé, Fendi, Louis Vuitton, Chanel, Hermes, Ferragamo, Prada, Mulberry, Yves Saint Laurent, Bvlgari, Burberry, Tory Burch, Longchamp, Givenchy, Alexander McQueen, Fendi, Kate Spade, Coach, Balenciaga, Christian Dior, Bottega Venetta, Stella McCartney or cult-favorite Asian brands such as Comme des Garçons or Issey Miyake. I would easily spend $10,000 on a vacation to magnificent Alaska, to drink in the rugged, natural beauty that I can relive until the onset of Alzheimers or memory loss due to consumption of Diet Coke. But ask me to spend the same amount on a Chanel or an Hermes bag and you'll only hear my gasps or laughter. However, if I was on a TV show that demanded that I spend their money on any handbag, I would probably choose the "Thank You" Python tote bag by Gelareh Mizrahi that retails for $1500. Good thing it looks identical to the one I get free with Chinese takeout.
An old Feng Shui belief is that a purse on the floor, is money out the door. And it is proper etiquette to never look in a woman's purse. But if you ever want to learn about someone, contents of their bag is quite revealing. In mine, you'll likely find a koosh ball, which brought me many joyful moments during travel with my young son at airport lounges or music festivals. Designer or not, the one thing common with all women is how we all fumble for keys. And feel guilty walking into a Naamdharis, Nature's Basket, Foodworld, Trader Joe's, Safeway, Walgreens or Whole Foods without our trove of trusted reusable bags.
The handbag is considered one of the most important fashion accessories. Bag designs which used to remain the same for centuries, now have become fads that change every season. Articles and magazine tout the 'It' bag of the season for which there is an inevitable waiting list. And one has to know someone to even get on these waiting lists despite prices like $10,000 and above.  Women are told that if they do not carry the right handbag, their image will suffer. Many women are more willing to splurge on a beautiful designer handbag than on any other wardrobe components. There are even rental websites for handbags where one can borrow an Hermes bag for a mere $300/month.
There are articles declaring with authority the ten handbags women must have in their closets, or ones titled 'The only types of bags you need to own' or the '30 types of bags you should own'. For me, 'Must have' translates to 'Musn't have', the 'Should to ''Should not' and the 'Need' to 'No need'.  I lovingly gaze at my coat hanger pedestal laden with all my canvas and leather satchels, and heavily embroidered cloth purses, I revel in a misplaced sense of loyalty towards them by refusing to rest my eyes on Prada at Heathrow or a mall near me.
I do love my Bagallini toiletries bag that lasted me well over a decade. This brand was conceived by flight attendants and the durability, price and design aesthetics resonate with me. I also admire the Japanese concept of using one bag, 'Randoseru' that lasts the duration of the elementary years, grade 1 to 6. They are expensive, but built to last. And love the practical, patterned and portable Reisenthel polyster bags that roll up into a ball that happily live in my handbag, ever ready to be whipped out a moments notice to most cashiers delight.
Today, I choose to be a responsible patron of one of my favorite purpose driven company 'United by Blue', that cares about our world and not just their bottom line. For every product sold, one pound of trash is removed from oceans and waterways. Plus, they offer a lifetime guarantee on all their products.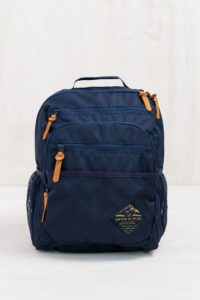 I purchased the Kid's Rowe Backpack and found it to be the perfect size for my weekend hikes. The side mesh pockets hold two water bottles, and the multiple, spacious pockets keep an extra layer, sandwiches, trail mix, keys and phones and small items like headphones and hairbands nicely organized. If you're looking for a small daypack, you will be mighty pleased with this one.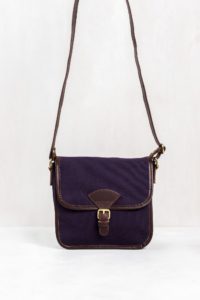 I am also happy with the navy crossbody, the Hunslet Haversack that is built to last the distance. It is large enough to hold my fat notebook, writing supplies, wallet and other essentials. Two zipper pockets provide a home for smaller items. It looks compact and sporty. The hardware is solid and sturdy, the fabric is water repellant. If you're looking for a tough, well made holdall, this one will not disappoint.
To support and raise money for the Wildfire relief in California, please consider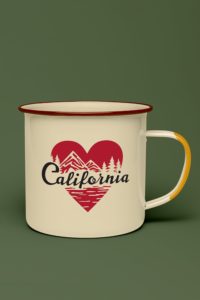 buying the California Enamel Steel Mug. 100% of the proceeds from this item up to $20,000, are being donated directly to California Community Foundation's Wildfire Relief Fund.
As the world transitions away from blind capitalism to conscious, cause- aware and purpose-driven capitalism, let us be role models for consumers by making better choices and supporting companies with strong social responsibility credentials.