Trick or Treat, Smell my Feet.
Give me something, Good to Eat

Folklore
I love festivals. Now in my fifties, I have the time to celebrate them, Halloween being my favorite. So much so, that I use Halloween motif tableware all year round. It makes me feel connected to my community. Best of all, the children love it. I love the ritual, appreciate the universal truth behind the mythology and relish the joy that comes from sharing tradition with friends who are family.
All faiths have a cycle of festivals that reflect a whole range of emotions and human experiences. Festivals propel you to think about core beliefs, founders, and the fundamental themes of life. The oldest festivals in the world are those whose roots lie in celebrating the seasons. Remembering the past and learning from it is an important aspect of all religions. Festivals also offer an opportunity to focus on the bigger issues of life – struggle between good and evil or what happens after death.
Ganesh Chaturthi (Protector, son of Shiva and Parvati) is celebrated with vigor in Mumbai where I was raised. For weeks there would be continuous blaring music of devotional and Bollywood songs. While it made study time challenging, I loved that people came together in the evening to attend the aarti (worship) and pray together. My father installed air conditioners in every room effectively drowning out the loud music and making study time during exams much easier.
I had the opportunity to live in Bangalore for a decade. Practically every day, there was a traffic jam near our home in Varthur, Whitefield. When I would ask my driver, why there was a traffic jam, inevitably, the answer would be "Festival madam". If it were possible, locals would celebrate 32 days of a 31 day month. Locally sourced materials, banana leaves, betel leaves, grass, plants, coconuts, and fruits from the markets often found themselves as offerings in prayer.
However deeply rooted festivals may be in ancient beliefs, they change with the communities that celebrate them. Halloween has become a more universal festival where American families of many faiths participate.
FESTIVALS OF AUTUMN
In the Northern hemisphere, September is a time of harvest. Crops are brought in, and preparations are made for the Winter. On Earth, we live by the grace of the Sun's interaction with our planet. Some communities, celebrations begin weeks before the actual Equinox.
The Autumn Equinox is the perfect balance of day and night. The harvest has been observed by people all over the world. Plants were personified as Corn mother, Wheat woman, lady rye. People approach the Harvest with deep solemnity and celebration.
Festivals of Autumn in the world include:
1st Monday in Sep: Legal holiday celebrated in United States and Canada to honor labor.
Sep 4: Native North Americans celebrate Sunrise dance. White mountain Apache maidens decorate themselves with feathers and their fathers shower them with corn kernels and candy as a protection against famine.
Sep 5: In India, Ganesh, the Hindu elephant God, the remover of obstacles and the protector is celebrated. His idol is brought home, or setup on street corners, decorated, food offerings are made, and devotional songs are played to glorify him.
Sep 7: In Cuba, devotees celebrate the Goddess of the ocean and Queen of the river with elaborate altars, fine foods, and a procession.
Sep 9: In China, kites fill the skies, from morning to night
Sep 11: In Niger, Cure Salee' celebrate the salt in the new grass after the first rains of the season. They gather to sing, dance, share food and hold camel races.
Sep 12: In Japan, respect for the aged day. A day is set aside to honor aged relatives and family friends
Sep 14: In Switzerland, a statue of the Black Madonna is adorned with flowers and paraded through town.
Sep 15: October 15: Hispanic Heritage Month celebrates Mexican and Central American independence.
Sep 15–30: This period is held in high regard in many countries. Harvest moon is the time when the staple crops are gathered, seeds are cured for planting, grain is stored for the Winter. It is a time to celebrate the harvesting of yams in West Africa, rice in China and pumpkins in America.
In China, mid-autumn is celebrated at the festival of Zhong Qui. Moon cakes, Lion dances, parades of children abound. People carry lanterns and go to the nearest hill and watch the moon rise.
In Germany and Poland, it was custom for children to dress up and beg for sweets at Christmastime. The Germans, Haitians, Africans, and French immigrants who came to America brought with them tales of witches.
The period at the end of September and beginning of October is the time for many Jewish festivals. Rosh Hashana (Jewish New Year).
Yom Kippur (Day of Atonement), Sukkot (Harvest festival) and Simchat Torah (carrying scrolls around synagogue)
Oktoberfest is celebrated in Munich to celebrate the harvest of the hops.
Indian festivals like Dusshera, Navratri and Durga puja are also celebrated in October. The four-day festival of Onam marks the end of the monsoon season and start of Harvest.
Yam festival in Ghana marks the start of the new year marked by dancing, singing, drumming, and wearing animal masks.
Feast of St. Francis of Assisi is celebrated on Oct 4. St Francis is remembered for his generosity to the poor and his love of nature and animals.
Dia de los Muertos (Day of the Dead) is celebrated Nov 1.
People of Mexican, Latin, and Caribbean descent decorate their home with bright paper cutouts, paint their faces and parade, dress their altars with candles and sugar skulls, offer flowers and sweet breads (Pan Muertos) to the spirits.
They believe that Oya, the goddess of Winds of Change is the caretaker of the soul after death and delivers it to the land of the ancestors. Mexicans believe that nobody truly dies unless they are forgotten. Relatives and loved ones who have passed on are honored on this day. There are all-night vigils at the gravesides, lighting of candles at altars and a feast the next day.
For Sikhs, November is the time to celebrate Guru Nanak, the founder of the religion. Diwali (festival of lights) is celebrated in a big way by Hindus. It honors the goddess of wealth Lakshmi. Diyas (clay or metal oil lamps) are lit in temples, homes and India is ablaze with flickering lights for two days.
HALLOWEEN
Halloween is a North American holiday, has Irish roots and is closely related to other festivals around the world that honor the dead. Halloween is celebrated worldwide on Oct 31. It is long believed that the spirits of the dead come out on this day. Customs like bonfires are designed to ward off any malign influence. Pumpkin carving party, marching in a parade, riding on a haunted hayride, visiting a pumpkin patch or a haunted house, attending an elaborate Halloween party are common activities. Store bought candy, homemade pumpkin bread, lights, decorations, and bonfires abound. Many homes decorate their front yards, windows, and porches for Halloween. Film projectors, fog machines and strobe lights are used to create a spooky ambience.
Children, adults, and pets dress up in costumes and indulge in going to parties or door to door asking for candy. At the end of the night, the spoils are poured out from their Trick or Treat bags and the goodies are examined and counted. Trades are made among the children for their favorite candies.
It is estimated that American consumers will spend $10 billion in 2021 on Halloween candy, costumes, and decorations. That is 2 billion more than 2020, when due to Covid, the CDC suggested that people should avoid trick or treating. Three cities in America truly transform on Halloween – New York, New York; Salem, Massachusetts; and New Orleans, Louisiana.
My favorite memory of Halloween is in Austin were the parades we would watch from a street corner on 6th street. With our sweet son hoisted up on his father's shoulders, watching in awe the effort people took on their creative costumes. What a treat. My favorite Halloween paraphernalia included a doormat that screamed every time you stepped on it. A motion activated cackling ghost hanging from a tree. And a candy dish with a gnarly hand that would bend and touch yours when you reached for candy.
Majority of the children I have handed candy out to over the years do not have an arsenal of tricks up their sleeves. For the most part, the threat is in jest.
My favorite ride in Disneyland was the Haunted House. Ghost train, graveyard, séance parlor, stone statues that come to life and a ballroom full of dancing spirits. Plus, gallons of glow in the dark paint.
Halloween means the evening before All Hallows or All Saints Day, a Christian holiday. The holiday has roots in Europe, thousands of years ago.
All the spiritual cultures of the world have holidays that are designed to celebrate our relationship to Spirit, Nature, and each other. On these occasions, we recognize that we are children of the Earth responding to changes in the Earth by participating in celebrations of the seasons.
EQUINOXES AND SOLSTICES
Equinoxes and Solstices signal the changing of the seasons on Earth.
The traditional holidays are based on earlier celebrations of the Equinoxes and the Solstices, which charted the movement of the Sun and its relationship to life on our planet.
An equinox is defined as a day that occurs twice per year when the sun crosses the equator, and the night and day are the same length.
A solstice is defined as a day that occurs twice a year when the Earth is tilted far away from or as close to the sun as it will be all year.
Mar 21, Vernal Equinox: Start of Spring. Day begins to increase until June 21.
June 21, Summer Solstice: Start of Summer. The longest day of the year.
Sep 21, Autumn Equinox: Start of Fall. Day and night are equal again.
Dec 21, Winter Solstice: Start of Winter. The shortest day of the year.
The seasons change because of the 23.4 degree tilt of the Earth's axis. The natural cycle of gestation, growth, fullness, and harvest is the Joyous dance of Winter, Spring, Summer, and Autumn.
Most of the world's holidays are based on ancient myths. Myths are stories that explain the Universal Truth in a symbolic language. Popular notion of myths is that of untruth, but they are the cornerstone of spirituality, religion, their rituals, and traditions.
By examining the mythology and symbolism of traditional holidays, celebrations become more meaningful.
HISTORY
Halloween was the eve of the Celtic New Year, Samhain, celebrated on Nov 1. Tribute was paid to Samhain, the Lord of death. It was believed that the veil between the worlds of the living and the dead was the thinnest on this night. All Saints Day is celebrated Nov 1. This is the day when those Christian saints that do not have a specific day for their commemoration are remembered. The Celts built fires and believed that they could tell fortunes by casting stones into the fire. If the stone was missing in the morning, you were sure to die before the next Halloween. They expected visits from their dead relatives and to welcome them, gifts of food and water were put out.
Today, Halloween celebrations contain bits and pieces of other festivals as well. Apples feature prominently in Halloween celebrations. Pomona was the Roman goddess of orchards. Parentalia, another Roman festival, families honored their dead by leaving milk and honey on their graves. They threw black beans as gifts so the ghosts wouldn't carry off the living.
When Romans and Celts converted to Christianity, the church wanted them to stop non-Christian traditions. New holidays like All Saints Day and All Souls Day were created and the evenings before them became known as Hallowtide.
King Henry VII in 1534 separated the Catholic church from England and formed a new Church of England. (Anglicans). People were no longer supposed to observe Catholic holidays. But in Ireland, people remained Catholic and went 'souling', which was like trick or treating. Those who gave out food and drink were promised good luck. Those who did not could expect the contrary. Candles and torches were carried through the hills to drive away witches for a year.
Romans bought their festivals to Britain. When the Irish, Scott and the English came to America, they bought the mingled traditions with them.
Halloween was also a time when a young maiden could find out who she was going to marry. The young girl had to peel and apple round and round, in one long spiral, then throw the peel over the shoulder. When the peel landed, it would form the initials of the man she was going to marry.
In the Victorian era in America, Halloween was mainly a time for young, unmarried adults to have parties and play fortune-telling and matchmaking games.
In the 19th century, kids would tie doors shut, tip over outhouses, and hoist a farmer's wagon onto his rooftop. At first, adults were amused. But soon started to lose patience with the rowdiness and destruction. After a while, adults were inviting the pranksters inside for cider and donuts. If they gave them something good to eat, the rowdies left their property alone.
Halloween related pranks that yield to vandalism, arson, smashed pumpkins etc. still occur. But for the most part, mischief has been replaced with trick-or-treats.
Since 1950, thousands of children across the US have collected pennies for UNICEF.
In the early 1900's, during Thanksgiving in New York, children dressed up in homemade costumes and went begging door to door. New York city discouraged the tradition. They got help from the Macy's Thanksgiving parade which included huge balloons and fancy floats. Then the ragamuffins gave up dressing up for Thanksgiving and the modern-day Halloween came into being.
All Souls Day is celebrated on Nov 2. This is the Mexican day of the dead, a time of all night vigils are graveyards, cakes and candies made in shape of skulls, of lighting candles in memory of the dead.
COSTUMES
The practice of dressing in costumes for Halloween can be traced back to European festivals, where people dressed up as witches, ghosts, and fairies that they feared. The most popular costume for Trick or Treaters remains to be 'The Witch'.
Over the years, the costumes have gone through major transformations. Starting out with witches, ghosts, and goblins, the 1920s saw the arrival of burglars, cowboys Indians and gypsies. Egyptian costumes became popular with adults. Disney characters like Mickey Mouse and Tinkerbell became popular post World War II. Movies like Star Wars influenced many popular costumes.
In 1990's historical costumes became popular. Since they were expensive to buy, people would rent them. Face masks of current political newsmakers are popular each year.
Halloween is the time to channel your inner star power by dressing up. For one day of the year, we can pretend to be Ballerinas, Firemen, Doctors, Werewolves, Buzz Lightyear, Woody, Spiderman, Bumble Bee, Hercules, Chucky, Vampires, Mummies, Zombies, Ghouls, Goblins, Frieda Kahlo, a hobo, or a black-eyed P.
SPOOKY FOOD
Many traditions of Halloween feature food in various ways. Caramel apples, pumpkin pies, apple bread, pumpkin bread, caramel corn, candy corn and pumpkin spiced lattes at a Starbucks or Peets near you. Regular food can be presented as Creepy: Cold Spaghetti presented as intestines, lychees with blueberries and strawberry jam served as eyeballs, beet juice or virgin Bloody Mary's served as blood,
There are unappetizing, old Scottish recipes telling woman what to eat to dream of their future husband.
JACK-O'-LANTERNS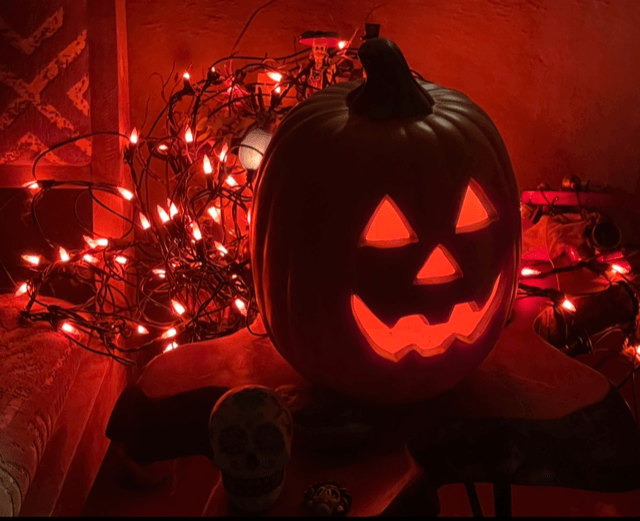 Halloween pumpkins are called Jack-O'-Lanterns and are the most recognizable symbols of Halloween. An old fable talks about a selfish man named Jack. When he died, he wasn't allowed into heaven. Jack was doomed to walk the earth forever. The devil threw Jack a hot glowing coal. He put it inside a turnip he had carved. In Ireland, they used potatoes, in Scotland, turnips, and in England, beets. When European immigrants came to America, they discovered that pumpkins were easier to hollow out.
Other symbols are a witch flying on a broomstick, black cats, bats, ghosts and skeletons, candy corn, apple, and nuts.
There's nothing like a night filled with all the greatest chainsaw-wielding, spellbinding, hair-raising movie to get you in the spooky season spirit. Here are some of the scariest I found:
SCARY MOVIES
Friday the 13th
Poltergeist
White Noise
Grudge
Beetlejuice
Coma
Addams Family
Omen 1 – 3
Hocus Pocus
Death becomes her
The haunted mansion
Child's play
Get out
Ghostbusters
Carrie
Exorcist
Dracula
Sleepy Hollow
Witches of Eastwick
Psycho
CLEVER COSUTUMES WITH LIMITED RESOURCES
These don't take much to implement:
Black Eyed P: An old white T-shirt, Black tape or marker, eyeliner. Make a P with any colored tape or use a marker to write P on a T shirt and use face paint or eyeliner to make the area around the eyelid, black.
Aircraft carrier: small plastic or metal planes, duct tape. Tape the planes to your shirt.
Chip on the shoulder: Yellow paper folded like an accordion, shaped like an oversized chip, taped on pinned on the shoulder
Nudist on strike: String, cardboard, black marker with the sign "Nudist on Strike" wear around your neck with regular clothes.
Smarty Pants: Smarty candy duck taped to old pants
Hawaiian Punch: Boxing glove, White T-shirt, Lei
Miss Universe: Planet cutouts, dress, Miss Universe sash
Blessing in disguise.: Any mask, Old T shirt, marker to write the word 'Blessing'
HALLOWEEN IN THE HOOD
Here are a few links that list all the fun events one could participate in the Bay Area, California:
CONSIDER HALLOWEEN LIGHTS FROM MPOWERD
MPOWERD is a B Corp certified company that uses the power of business to build a more inclusive and sustainable economy. There are more than 3,200 B Corps in 150 industries and 71 countries around the world.
Energy inequality is a global issue. MPOWERD distributes clean energy to 90+ countries around the globe through 300 NGO's and non-profits, their lights which have been distributed in Africa, Asia, Europe, North, Central and South America.
Lightweight, portable, and packed full of power, all their products are thoughtfully designed for everyday use.
Consider Luci solar lights to bring cheer to your Halloween festivities! Shop String Lights, Luci Colors, and Candle and save 40% off. Use code TREAT40 at checkout.
HALLOWEEN CELEBRATIONS WORLD OVER
Wouldn't it be lovely if Oct 31 was a holiday world over? Then you could spend the whole day preparing for the evening instead of rushing home from work after 5 pm and squeezing in a potluck, pumpkin carving and attending parade.
Halloween is celebrated worldwide in France, Sweden, Sardinia, Greece, Poland, Dubai, Hong Kong, Singapore, Switzerland, Spain, Russia, Czech Republic, Germany, Dominican Republic, Japan, England, Canada, New Zealand, Australia, Scotland, and metro cities in India. Not everyone is happy about it and consider it a "cultural pollution". I think any festival that brings people of all faiths together is great.
Desire to celebrate appears to be growing. Festivals fill a deep-seated need in the human psyche. More people are taking interest in stories, rituals, foods, clothes associated with festivals, some of which have crossed boundaries of culture and religion. Different communities give these ancient festivals a new meaning by providing time for reflection and most importantly, having fun.
Books Referenced for this Blog:
Celebrations Around the World – Carole S. Angell
Celebrate Halloween – Wendy Mass
Holidays, Festivals and Celebrations of the Word Dictionary – Sue Ellen Thompson and Barbara W. Carlson
Festivals of the World – Elizabeth Breuillly, Joaane O'Brien & Martin Palmer
Websites referenced:
https://www.buzzfeed.com/angelamv/31-insanely-clever-last-minute-halloween-costumes?utm_source=dynamic&utm_campaign=bfsharecopy&sub=0_1788355#1788355
https://worldpopulationreview.com/country-rankings/countries-that-celebrate-halloween
https://www.oyster.com/articles/how-halloween-is-celebrated-around-the-world-might-surprise-you/